By Lynn Atkinson, RDH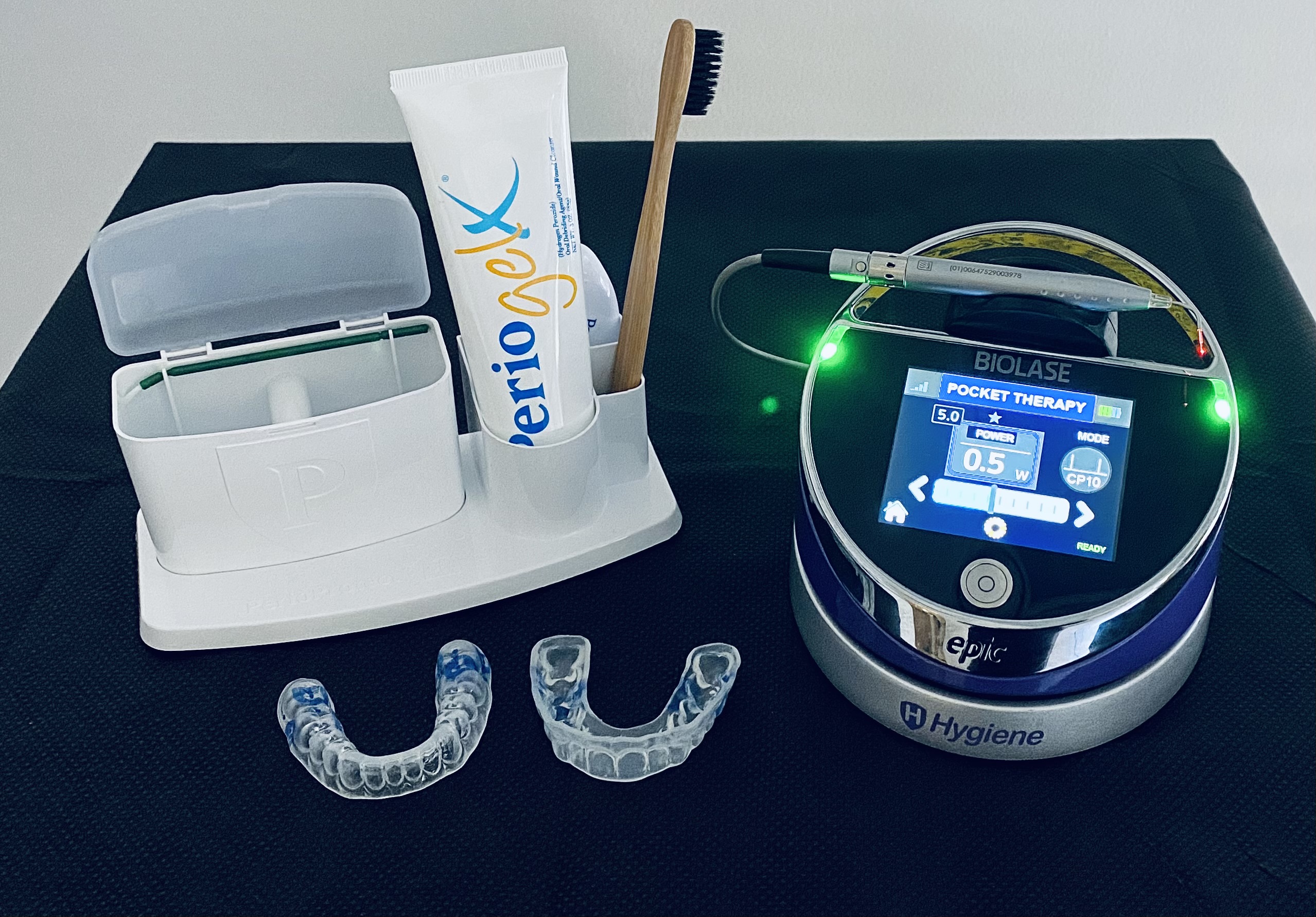 Traditional non-surgical periodontal therapy has been performed by the dental hygienist for decades. The ultimate goal is to treat and thenmaintain periodontal health. There are several adjunctive therapies available for the clinician to incorporate along with non-surgical periodontal therapy. The combination of using lasers and custom designed medicament trays, such as Perio TraysTM,  can be integrated into protocols allowing us to treat our patients more comprehensively while focusing on improving oral and whole-body health.  
The results that I have seen, as a clinician using lasers in hygiene for over 26 years, have been outstanding. The patients' response and attitude towards technology and therapeutic care has developed into a positive outlook and interest over the years. Studies show that diode laser irradiation reduces the number of active periodontal pathogens.3 I always strive to find modalities and adjunctive therapies to assist patients at home in between intervals in the office. The study by Odor on the effect of hydrogen peroxide photoactivated decontamination using a 940nm diode sparked my interest in starting to incorporate the laser along with hydrogen peroxide, specifically using the PerioTraysTM from PerioProtect.  
Customized sealed PerioTraysTM deliver a low concentration of hydrogen peroxide gel into the sulcus to establish an oxygen-rich environment that also reduces pathogens and encourages wound healing. 
The past year I have observed and recorded the results of prescribing PerioProtect in compliment to laser therapy for periodontal disease and periodontal maintenance. The patients that were chosen were treated with non-surgical Laser Assisted Periodontal Therapy and then placed on a 3-month periodontal maintenance. Comparison markers were tracked using Voice Works by Florida Probe. Comparisons were made incorporating Pocket Depths (PD), Bleeding on Probing (BOP), Calibrated Attachment Levels (CAL), furcation, and mobility.
In addition to the patient wearing the trays 2 times a day with Hydrogen peroxide Perio Gel, the patient also came in wearing the trays. Immediately after removing the trays the 980nm Diode laser was used at 0.5W (pulsed at 10% duty cycle) for 5 minutes for full mouth Laser Bacterial Reduction. On other patients that did not wear the trays into the office the Perio Gel was placed subgingival using a microcapillary plastic flexible tip and a universal applicator (see photo).
Barbara is a patient that was seen for evaluation on October 19, 2021, with the following information:
35% Bleeding on Probing (BOP) sites

39% Pocket Depths (PD) ≥ 4mm sites

25% Deep and bleeding sites
After non-surgical Laser Assisted Periodontal Therapy January 2022 the patient returned in 6 weeks on March 1, 2022. At this supportive periodontal therapy appointment, the perio evaluation was completed and revealed
5% Bleeding on Probing (BOP) sites

13% Pocket Depths (PD) ≥4mm sites

2% Deep and bleeding sites
The patient's motivation and home care were accelerated with the significant results, and it was recommended to incorporate Perio Trays at that 6-week Supportive Perio Therapy appointment. The patient was instructed to wear the trays twice daily for 15 minutes with the Perio Gel solution. Pt returned in 3 months for her Periodontal Maintenance appointment which revealed:
1% Bleeding on Probing (BOP) sites

5% Pocket Depths (PD) ≥ 4mm

1% Deep and bleeding sites
The Florida Probe graphic representation shows the significant changes and decrease in Bleeding on Probing (BOP), Pocket Depths (PD), and Deep and bleeding sites. The graph also reveals a "high risk for periodontal disease" on October 19, 2021 and decreased to a "moderate risk for periodontal disease" on June 7, 2022.  (See photo). It was also noted a decrease in inflammation and suppuration around the implant on #31. (The implant on #30 failed). The implant on #31 was treated with Repair Perio with Er,Cr:YSGG and is showing stability with a guarded prognosis on #28 and #29 implants. There is no continued suppuration as was noted in the area around the implants or any other sites.
The results are seen with non-surgical laser periodontal therapy (LAPT), but with the addition of the use of Perio TraysTM the results continue to show improvement. The patient is now wearing the Perio Trays for maintenance once a day and continues to receive Periodontal Maintenance with laser decontamination. This is just one example of several patients who have recorded a significant improvement in the periodontal condition. The trays are also being recommended prior to any periodontal therapy and the results are starting to be documented.
In summary the adjunctive therapy of using Perio TraysTM  and laser therapy are showing promising results. The patients also report a feeling of cleaner teeth, healthier gums, and whiter teeth. In the future I hope to continue with these cases and document further findings. 
References
1 Odor AA, Bechir ES, Forna DA. Effect of Hydrogen Peroxide Photoactivated Decontamination Using 940 nm Diode Laser in Periodontal Treatment: A Pilot Study. Photobiomodul Photomed Laser Surg. 2020 Oct;38(10):614-624. doi: 10.1089/photob.2019.4718. Epub 2020 Jun 5. PMID: 32503390.
Putt MS, Mallatt ME, Messmann LL, Proskin HM. A 6-month clinical investigation of custom tray application of peroxide gel with or without doxycycline as adjuncts to scaling and root planing for treatment of periodontitis. Am J Dent. 2014 Oct;27(5):273-84. PMID: 25842461.
2 Putt MS, Proskin HM. Custom tray application of peroxide gel as an adjunct to scaling and root planing in the treatment of periodontitis: results of a randomized controlled trial after six months. J Clin Dent. 2013;24(3):100-7. PMID: 24660272.
3 Gojkov-Vukelic M, Hadzic S, Dedic A, Konjhodzic R, Beslagic E. Application of a diode laser in the reduction of targeted periodontal pathogens. Acta Inform Med. 2013 Dec;21(4):237-40. doi: 10.5455/aim.2013.21.237-240. Epub 2013 Dec 4. PMID: 24554796; PMCID: PMC3916176.
Share this post: